Owen Superyacht Marketing grow their ECO client base with Marc Pajot Yachts and build-partner, WIDER
Andy Smith, Owens Creative Director outlines our involvement with hybrid yachts over the last 12 years: "A milestone in ECO yachting took place with our client Royal Huisman in 2009 when Bill and Shannon Joy launched their hybrid 78m sailing yacht 'Ethereal'. We followed the design and build programme and documented through news magazines and content, the amazing technological journey of starting with a fresh canvas and designing and building a revolutionary ECO masterpiece. Since then we have been researching and creating content for clients covering electric tenders to electric classic cars. For 2021 we added Broadblue Catamarans (Multihull World) to our client list with their range of hybrid models destined to lead the field in family sized cruising catamarans."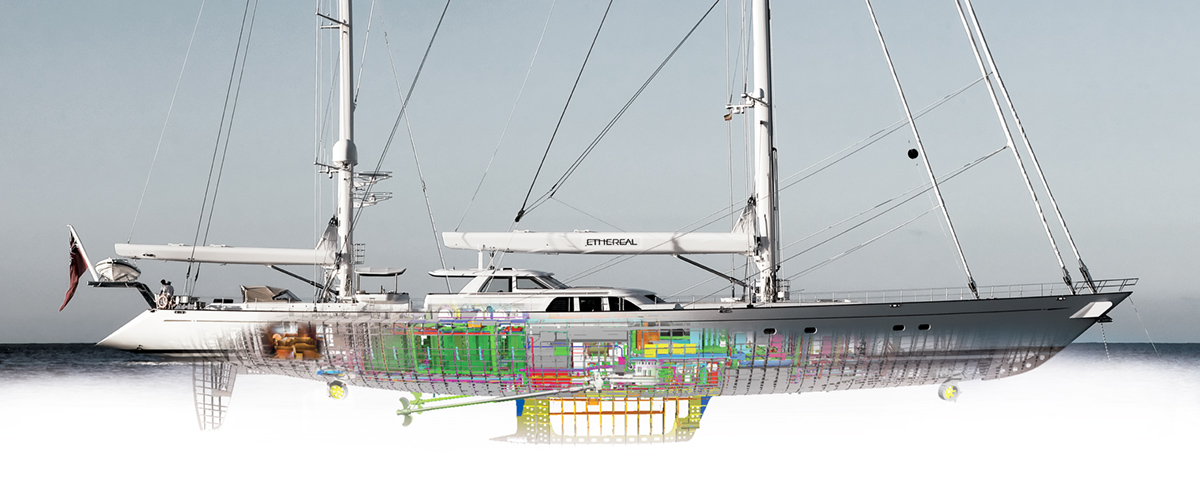 Owen founder Roy Roberts adds: "Owens have been the 'authority' in marine marketing for many years and are in a perfect position with hybrid powertrain technology knowledge and experience, to ably support all the new products from yachts of all sizes, propulsion systems and the hybrid supply chain with a first class marketing and PR service"
WIDER-PAJOT ECO Yachts
We are now developing the marketing roll-out for WIDER-PAJOT ECO Yachts with the 115ft and 145ft luxury hybrid sailing catamarans. Last year saw the launch of the innovative and groundbreaking 115ft ECO yacht masterminded by French sailing legend Marc Pajot. The perfect project partner for this revolutionary aluminium and carbon catamaran was identified as WIDER srl based in Ancona, Italy.
Born-Electric Vision
Marc Pajot sees the massive benefits in creating this partnership with WIDER, especially working with CEO Marcello Maggi who has carved an enviable position in the hybrid superyacht market as the 'go to' expert in hybrid power solutions for all sizes of yachts. Marc adds: "The synergy with what I have been developing with our ECO catamaran and the superyachts produced by Wider is exceptional. Now with the new 145ft model becoming available, it augments the larger monohull hybrid superyachts that are built at the WIDER Ancona shipyard. The ECO credentials are now an important factor in the expectations and demands from the new eco-aware yachting customer."
Hybrid power options come in many technical configurations and with it the need for power management systems and the electric propellor drive arrangements, expertise provided by the WIDER partnership. Marcello Maggi takes up the story: "ECO yachting and hybrid power technology is an area we have been developing for over a decade now and has been proven by our innovative yachts for appreciative clients. I refer to this vision as 'Born-Electric'.
In addition we have developed the Wider Electric Management System, a unique solution to efficiently manage the electrical requirements for our yachts and now the WIDER-PAJOT ECO YACHT. Our expertise in the hybrid yacht market is clearly demonstrated by our collection of industry awards, including the RINA Green Plus".
The Leading-edge Hybrid Technology
Marcello continues: "We are just beginning an age of ECO awareness for yachting as a whole and WIDER will be at the leading edge of this technology at all times, from Hydrogen power to the dawn of new power sources such as Thermionic Converters. I am personally very excited about our partnership with Marc Pajot and his exceptionally talented team. Together we will build some spectacular ECO hybrid catamarans, setting a new benchmark on the oceans".