Things we're proud of at Owen Superyacht Marketing
The huge body of work in marketing, PR, creative design, publicity, advertising, print, photography and video for the marine and superyacht market created by the Owen team over many decades, is substantial. Something we are extremely proud of.
We are also digital veterans, working hard to address the continuous changes in website design and multi-channel marketing and the growing list of digital applications we see today.
Our international client base clearly illustrates the breadth of our knowledge and experience, making us the authority in marine and superyacht marketing.
Each brand logo you will see on the home page (and there are plenty more) represents a client for whom, in most cases, we have produced substantial marketing support and material over many years, including detailed marketing and brand strategy.
Royal Huisman for three decades
How can you distil over 35 years of marketing excellence into just a few words? The milestones and achievements have been numerous as Owens developed the Huisman brand strategy and tone-of-voice and guided their marketing journey during the growth years of this iconic shipyard.
Our legacy can be seen in the material we have produced for Huisman over the decades. We photographed and produced brochures and books for most of the world class yachts built at the Huisman Shipyard and we were also supporting them on their brand design transition to the Royal Huisman Shipyard and currently Royal Huisman. We also created the well known and respected Brand Identity for their sister company, RONDAL which can be seen inscribed on all their products. Another sub-brand we created was HUISFIT for their now highly successful refit division.
The Owen marine and superyacht team that has serviced Royal Huisman for this amazing journey is still producing marketing material including the sixth edition of their successful pocket guide for the 2019 Monaco Yacht Show.
Hill Robinson, setting the pace in Monaco
Having known Nick Hill and Niall Robinson from previous business relationships and watching the steady development and success of Hill Robinson Yacht Management enterprise over the early years, we were very pleased to be hired in June 2013 when they had one main office in Antibes and 20 staff. Our remit was to refresh their brand and market positioning then inject a creative approach into their global marketing journey.
And what a journey it has been, as Owens engaged with Hill Robinson to expand the marketing channels to help grow the exceptional managed yacht fleet, supported by new offices globally and specialist management teams creating a unique offering to owners, captains and crew. With our marketing support and industry expertise, HR has grown ten-fold with 200 staff in fourteen offices by 2022. Very impressive in less than ten years.
Being a full-service marketing agency, Owens was able to engage with all the marketing requirements including direct marketing tools, video, PR, content and photography. We created and developed their very successful HarbouR news magazine which we researched and wrote all the content, becoming an industry leader for insightful material and quality.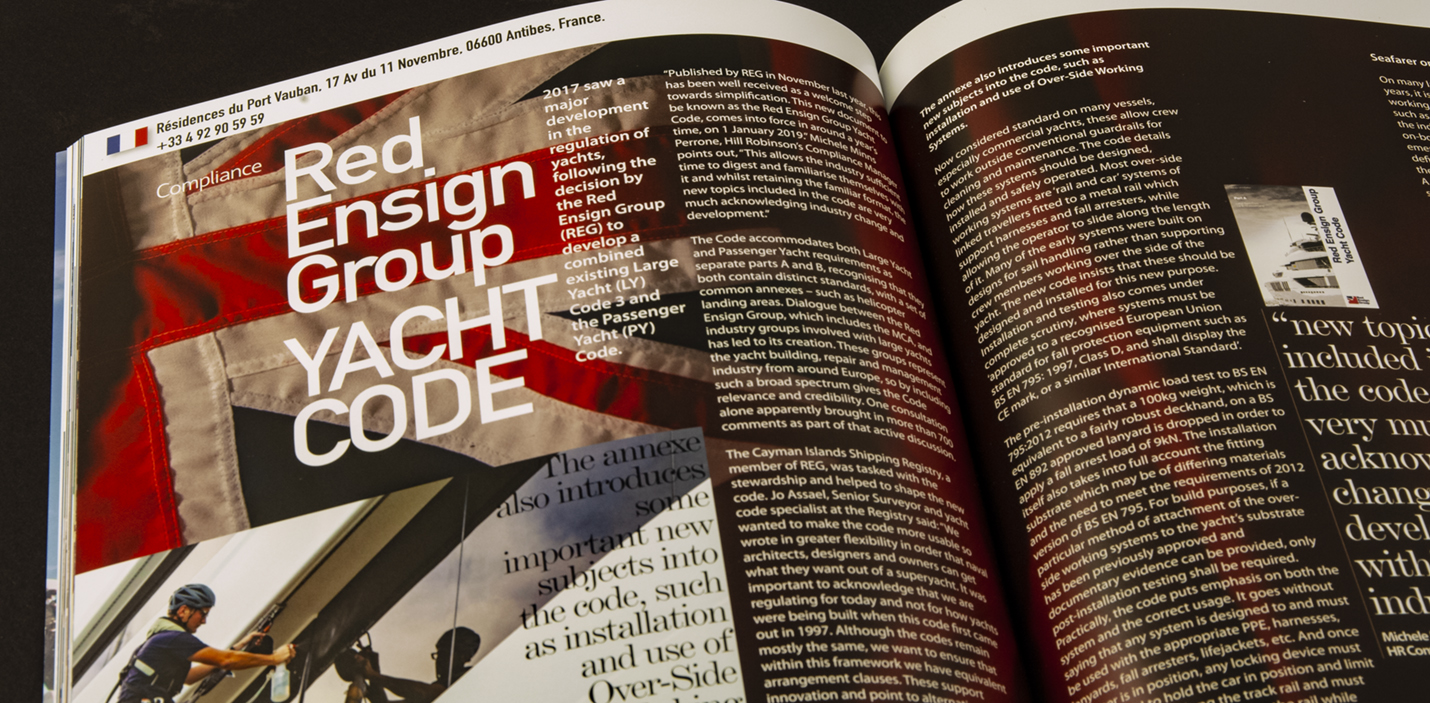 A1 Yachting, a Greek Odyssey
By now you will appreciate our client base is truly international, and an example of this is our work for our Greek customer, A1 Yacht Trade Consortium who provide extensive luxury yacht services in Greece, operating from many locations, employing in excess of 60 staff.
Owens were asked in 2016 to look at a rebranding exercise for the whole A1 enterprise that now includes a shipyard in Rhodes, our remit included signage, uniforms and a new website, although initially our first task a few years prior to this was to design and produce a case-bound book about Greece entitled 'Hellas Bound'. We now produce this luxury publication annually which is gifted to superyachts visiting Greek waters and available in some of the finest hotels in Athens and the Greek islands.
BWA Yachting, Worldwide Yachting services provider
Our client BWA Yachting is a worldwide yachting services provider formed over a decade ago to support captains, managers and crew, making their lives easier, assisting with the increasing demands of managing a modern superyacht. Their global office network stretches throughout the Mediterranean, Caribbean and the Americas, providing a unique and seamless experience, wherever their clients are cruising.
Our mission was to help identify the customer touch-points and develop a strategy where we could create the language and tone-of-voice to communicate the complex raft of services that BWA offer their clients. Part of the process was to develop the branding and colourways and establish the copy style and straplines to add depth and understanding to the proposition.
The new branding style was flowed into all their collateral and part of the programme included a new bespoke website produced in house by the Owen creative team and various advertising material including print and digital banners. We have been working with BWA for many years and look forward to developing their marketing footprint further in 2020.
World class superyachts from Turquoise Yachts, Turkey
1994 saw the launch of the 50m 'Turquoise' heralded by the world's press as 'Turkey's first world class superyacht'. In 1997 two leading entrepreneurs in the Turkish boatbuilding industry formed Proteksan Turquoise and started to build both an impressive fleet of yachts and state-of-the-art shipyards.
Owen Superyacht Marketing was appointed in 2007 to help build the brand and roll out a full service agency support package across all marketing channels including PR, advertising, website, videos, photography and print.
Thirteen years on we are still supporting this world class brand, now Turquoise Yachts. 2017 saw the newly sold 47m Razan on the dock at the Monaco Yacht Show with several larger newbuilds currently in the yards. In 2018, 'My GO' their latest yacht was launched for her new owner.